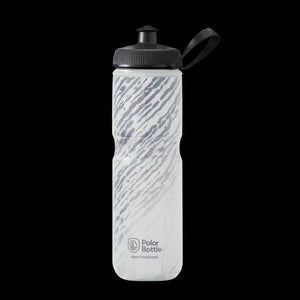 Designed to deliver hydration on the go, Polar Sport Insulated Nimbus bottle comes in out of this world graphics for any workout.
You've heard it a million times: "Drink more water." So, Polar made something to help you quell your thirst... and those pesky know-it-alls. The Sport Insulated Polar Bottle® helps athletes like you stay refreshed and replenished, no matter your sport of choice. Built for performance and optimized for effortless use, the bottle's revamped design includes Tri-Layer™ insulation that keeps liquids cool twice as long, an ultra-thin exterior for squeezable hydration, and an integrated Dash Handle™ for easy transport.

Integrated sports cap makes for quick hydration–pull for a cool stream and push to lock for a spill-free seal.
Dash Handle turns your bottle into the ultimate travel companion, and its convenient loop keeps hydration at your fingertips.
The original, 100% BPA-free insulated water bottle. The updated design features triple wall insulation, keeping your liquid cooler 2X longer.
Polar Sports bottles are designed with ultra-light materials and a unique grip groove, so you can hydrate with an easy squeeze.
Designed to fit your bike cage, backpack pocket, or cup holder, the Polar Bottle is your go-further refresher for effortless hydration.
The innovative Sport Cap is two pieces–cap and valve–and easy to clean. Simply twist, pull, and wash. Plus, they're dishwasher safe.
Polar Bottle insulated water bottles are crafted in Colorado to reduce environmental impact and support local economies. Designed to last.
CAPACITY

710ml

DIMENSIONS

10.5 x 2.75 in

MATERIAL

LDPE, TPU Valve