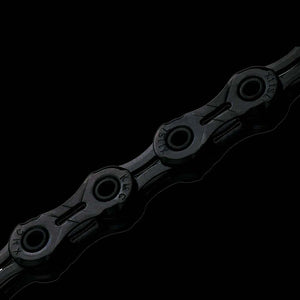 Light, long-lasting and super-stylish, the KMC X11-SL DLC Chain works with any Shimano/SRAM and Campagnolo 11-speed derailleur system to provide a long-lasting and smooth design that will not let you down. DLC Stand for Diamond Like Coating Technology which is KMC's way of saying it's covered the inner and outer plates of this chain in a really hardness and enhanced resistance.
Features:
- Astoundingly Responsive : As quick to respond as you change gear, KMC double x bridge design never skips a beat so your ride is sure to be easier, faster and more powerful.
- More Smoother & More Scratch Resistance : The extreme durability and smoothness of KMC links comes from a four-step coating process which includes a layer of TiCN. Which means its 10X time smoother & 300 percent harder.
- Light & Strong : All components have been upgraded and are now even lighter and stronger than before. Each link weighs a mere 2.08 grams.
- As Eyr Catching As Your Ride : Metallic black on gemstone colors. Combinations that add the finishing touches to your ride.
- Unparalleled Performance : Every component is designed for you to ride as hard as you like, staying quick, responsive and efficient every step of the way.
- Incredible Durability : Ride longer, ride further. KMC components under go special coating process, so that rider can ride 3X time further.