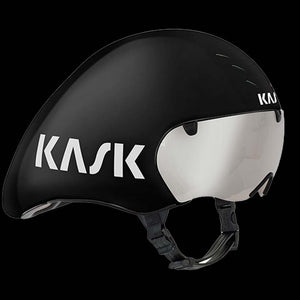 KASK, based in Italy, specializes in developing, designing, and manufacturing of safety helmets of the highest quality. In every field of application KASK helmets are at the forefront, be it skiing, cycling, mountaineering, horse riding, rescue or safety world.
Born in 2004, KASK is a relatively young company, a talented team of expert engineers and partnerships with Italy's market-leading factories, in this short time the company has gone through a tremendous evolution marked by success all along the way. KASK has been awarded with prizes like ISPO and Eurobike.
KASK's mission is to maintain a perfect balance between technological excellence, functionality, safety, and attractive design in their products. KASK is constantly researching and looking for ways to go beyond and improve the quality of KASK helmets even further.
Beyond the sheer quality of the materials and the unique elegance of KASK design, KASK safety helmets for outdoor sports grant athletes the priceless freedom in knowing that they are protected. KASK's perfectly ergonomic helmets, produced entirely in Italy, were developed to fit the needs of world's top athletes, and therefore they ensure the wearer unparalleled comfort even in the most rigorous circumstances.
Mastermind Bicycle Studio is proud to be the EXCLUSIVE distributor of India for KASK Helmets.