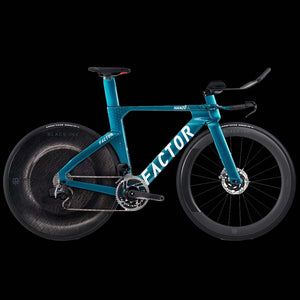 Introducing the Factor HANZŌ: Defying Aero Limits with Innovative Design
Discover the Factor HANZŌ, a groundbreaking time trial bike that challenges the notion of reaching maximum aerodynamic efficiency. Unlike the prevailing belief that bikes have already achieved peak aerodynamics, Factor has defied expectations by leveraging the revised UCI rules to create the world's fastest purpose-built time trial bike.
Factor's approach to designing the HANZŌ involved meticulous attention to detail, examining each component of the bike individually and as a cohesive unit. By pushing the boundaries set by the UCI, Factor has achieved unprecedented levels of innovation. This advantage is particularly evident in their ability to exercise precise control over the manufacturing process, a luxury not available to manufacturers without their own factories.
The result? The HANZŌ outperforms not only its predecessor, the SLiCK, but also surpasses non-UCI compliant time trial and triathlon frame designs in terms of speed and aerodynamic efficiency.
Experience the next evolution in time trial cycling with the Factor HANZŌ - a testament to cutting-edge design and unrivaled performance.