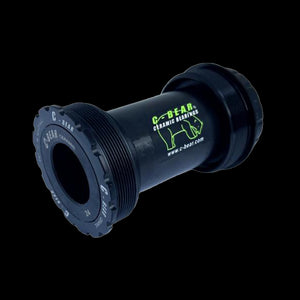 SKU-T47A-77-24-r
C-Bear are ceramic bearing specialists, they focus on what they know best.
All their products come standard with ceramic bearings, the ultimate when you want less friction, longevity and affordable pricing. All C-Bear bottom brackets are housed in aluminium, there is no plastic here. Metal alloy housings have almost no flex, do not deform, and are made with higher precision and tighter tolerances. By placing the ceramic bearings directly next to the crank arm, optimal stiffness and maximum power transfer is achieved.
Mastermind Bicycle Studio is proud to be the EXCLUSIVE Distributor of India for C-Bear.